Year 3
Welcome to Year 3!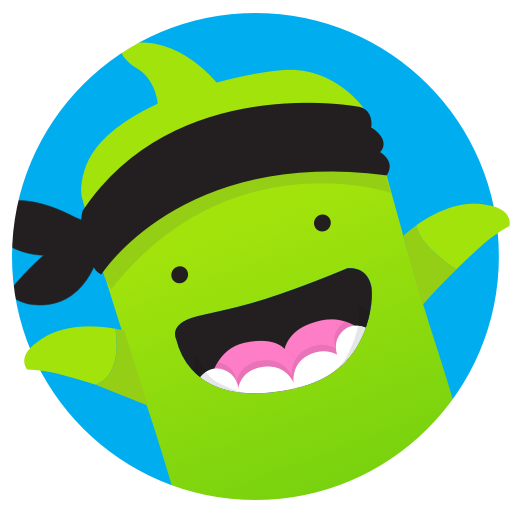 If you need to contact your child's teacher, please do so via the Class Dojo App.
Welcome to Year 3,
On this page you will be able to find out more about what we are doing this term as well as access links to support with homework, home learning and the wider curriculum. If you have any queries, please contact us on the email address at the top of the page.
The Year 3 Team
Year 3 Teachers

Mr Good

Year 3 Lead

3DG Teacher


Mr Johnstone

3JL Teacher (Mon-Weds)


Miss Lewis

3JL Teacher (Thurs - Fri)

Miss Katirai

3FK Teacher

Year 3 Teaching Assistants

Mrs Allard
Teaching Assistant (HLTA)


Miss Lloyd
Teaching Assistant (AM)


Mrs Gregory
Teaching Assistant (PM)
What are we learning about this term?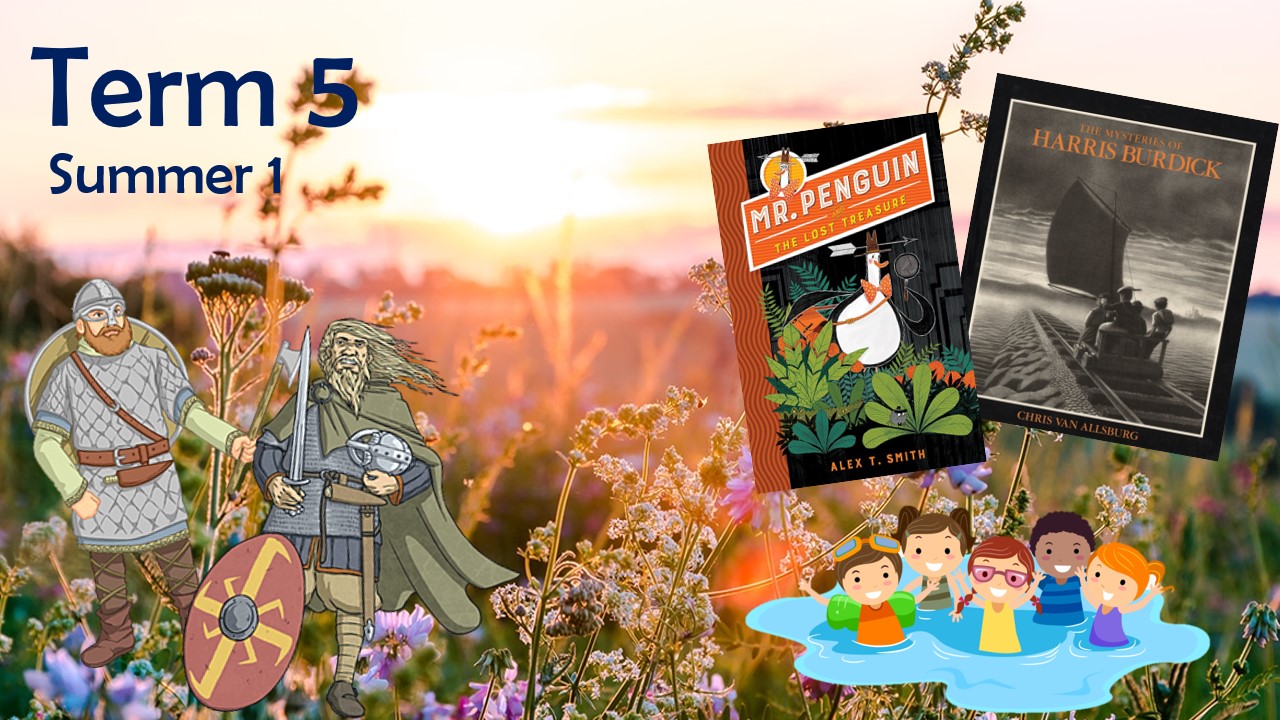 Term 5 (Summer 1)
Maths
In Maths this term we will continue the work we began at the end of Term 4 but will be focussing on Capacity. Following this we will then come back to Fractions where we will build on the knowledge our pupils gained earlier in the year. This will include adding and subtracting fractions as well as finding fractions of amounts. After this, we will be looking at measurement again but with a focus on money. We will then begin to look at telling time, this will likely continue in the final term.
With our Times Tables we will continue to review the 2s, 5s, 10s, 3s, 4s and 8s.
English
Our literary theme this term is 'From mystery to discovery' and we will be exploring texts including Mr. Penguin: The Lost Treasure and The Mysteries of Harris Burdick. As well as discussing and dissecting the texts through our lessons, pupils will also be given opportunities to write in response to the texts. With regard to The Mysteries of Harris Burdick, pupils will be exploring the illustrations and creating mystery setting descriptions, using a variety of grammatical and authorial tools, going on to creating action, suspense and drama in their middle-sections and endings. In the final part of the sequence, children write their own mystery stories, based upon a place of local interest, of which they have collected photographs or images, and publish them in a class collection for others to read.
History
This term our focus in History is Invaders and Settlers. This will see the children build upon their prior knowledge of The Celts and The Romans to gain and understanding of how the Vikings, Anglo-Saxons and Normans played a part in the history of The United Kingdom.
Science
Our key question in Science this term is 'What do the different parts of flowering plants do?' Through this topic children will learn the different parts of a plant and what they do as well as the individual parts of a flower itself. They will look at a plants life cycle as well as how they stay healthy, reproduce and disperse their seeds.
DT
This term we will continue our Mechanical Systems project in DT. Once this is completed we will move on to looking at pneumatic systems.
RE
Pupils will begin looking at Hinduism.
Jigsaw (PSHE)
The focus of our PSHE lessons will be Relationships.
PE
Year 3 PE days for Term 5 and 6 will be Wednesday and Thursday.

All pupils are to wear PE kit to school on both of these days until the end of the school year unless otherwise notified.

Pupils will continue to have their regular PE sessions with Mr Bartram on a Thursday but the Summer Term will see the reintroduction of swimming on Wednesday.

Pupils are only to bring swimming kit if their class is scheduled to swim (see Timetable attached).

Swim kit should include:
Swimming costume (no bikinis)
Towel
Swim Cap
A plastic bag for wet costumes

Pupils are welcome to bring goggles but these are not mandatory.

Swim caps are available through the MCAS app and can be collected from the school office.
Our Swimming timetable is below: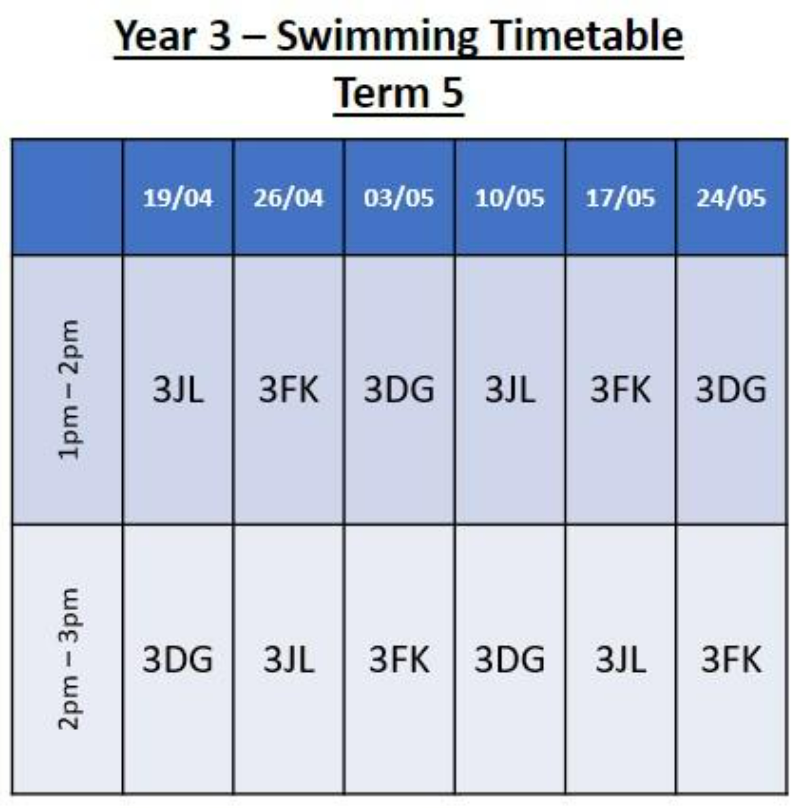 Homework
Homework expectations are the same as in previous terms:
Maths: Pupils are expected to complete 15 games on TTRockstars each week. These are set each Friday morning and should be completed by the following Friday morning.
Spelling: Your child will receive a list of spellings each Friday and will expected to revise these at home for a test the following Friday. This can be done by using EdShed or through other methods. Please see our Home Spelling Strategies page for ideas regarding this.
Reading: We do not use Reading Records in Year 3 but pupils are expected to read at home with a parent a minimum of 3 times a week. We use Accelerated Reader to track their reading progress, you can learn more about this scheme here.
Full timetable below: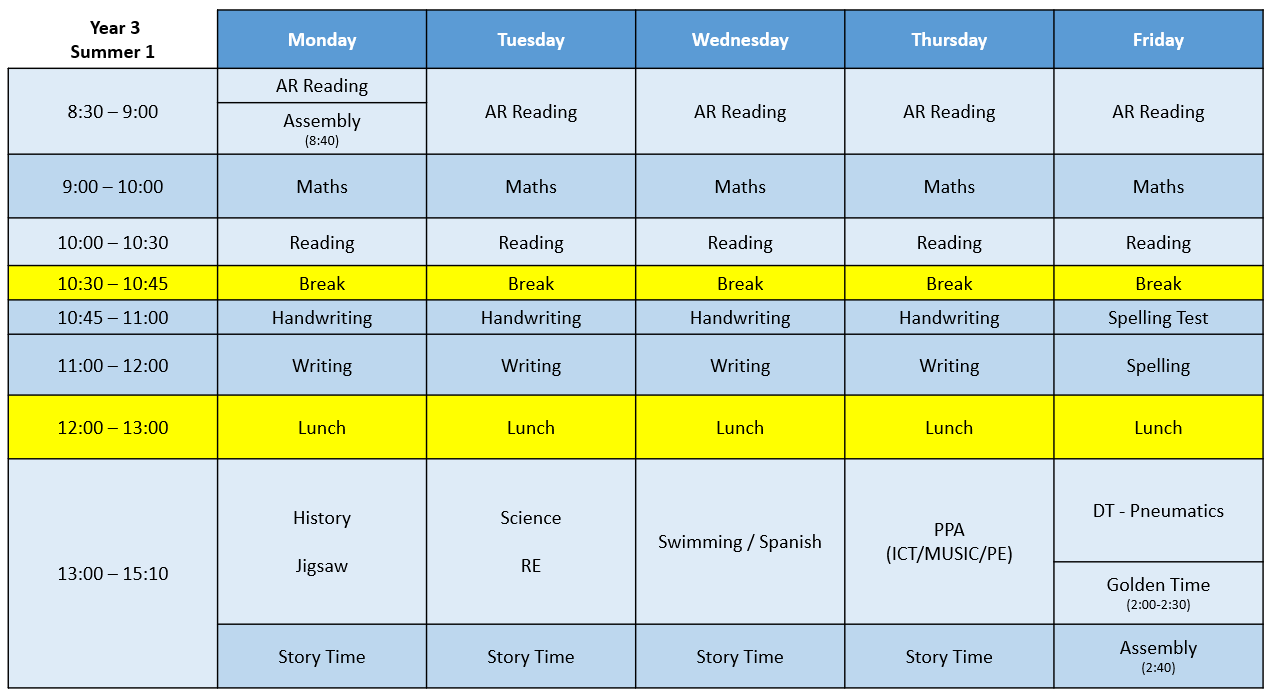 Useful Resources